Gearboxes For Extruders: Special Applications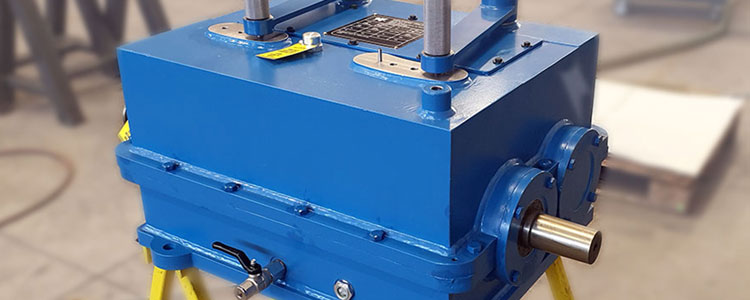 Industrial extruders are machines used in the plastics industry. The extrusion process consists in bringing a material to a fluid state and in forcing it to pass, continuously, through the shaped profile of a mold.
Depending on the screws inside, we can have single-screw and twin-screw extruders.
In the first case, it is possible to create products of small and constant size or large pipes for water and / or gas pipes.
The twin-screw models, on the other hand, are more complex as they consist of two screws penetrated into the cylinder that can rotate in the same direction (co-rotating twin-screw extruders) or discordant (counter-rotating twin-screw extruders).
As can be deduced from their use, these machines require a high transmissible torque ratio in relation to the weight and size of the gearbox. Therefore the reducers applied to them must be able to withstand such a heavy application.
Riduttori Italia designs and manufactures gearboxes for large non-standard extruders: whatever the transmissible torque density, we can realize your project.
What distinguishes us on the market is the "all in inclusive" solution: from the initial inspection to the delivery of the finished gearbox, the whole process is followed by us so that the customer does not have to worry about anything.
Based on the application needs we can create:
reducers for single screw extruders
reducers for co-rotating twin screw extruders
reducers for parallel counter-rotating twin screw extruders
reducers for conical counter-rotating twin screw extruders
special reducers for extrusion and mixing.
If you wish to receive advice for a special application on reducers for extruders, please feel free to contact us.